07/19/16
Child car seats are important for your child's safety, and there are strict rules governing the use of them in private cars and commuter vehicles. So, are child car seats required in limos or taxis? The answer, in Illinois, anyway, is no. You do not need to use child car seats in limos or taxis in the state of Illinois.
Most Chicago limo companies and taxis do not offer child car seats or booster seats. They are not required by law to offer them and you are not required to use them when traveling in commercial cars. You are frequently welcome to bring your own and install them yourself, but you are also welcome to travel with your child without the car seat. This is clearly outlined in the Child Passenger Protection Act.
Some limo companies, such as Going Green Limousine, is family owned and understands the importance of traveling safely with children. Even though we are not required to deal with car seats, we are happy to provide our Chicago limo service with car seats. All of our vehicles are equipped with the latch system for properly installing car seats.
Traveling with children can be stressful, and if you want the added security of using a child safety seat with a car service, then dealing with the bulky heavy car seat can add even more woes to your plans. We certainly welcome you to bring your own, but we also give you the option of renting new and clean car seats from us. Our chauffeurs preinstall them for your convenience, so you can totally eliminate the car seat worry from your ground transportation. You can even rent our car seats for the convenience and just bring yours as cargo if you need it at the other end of your travels. We are completely flexible and only want to provide you with as much peace of mind as we can. That is also one of the reasons we offer every type of car seat.
Rear facing infant car seats with the base (five point harness) are good for infants from 5 to 22 pounds and up to 29″ in height. These seats are meant to go up to one year for your baby. However, many babies start outgrowing that seat as early as 9 months old. State law requires infants to stay rear facing for up to one year, and new safety guidelines recommend keeping your child rear facing for up to two years if possible. So, what is a parent to do? Introducing, the rear facing convertible car seat.
Rear facing convertible car seats (five point harness) are good for infants from 5 to 35 pounds. Once your child has hit 35 pounds, he will need to be forward facing.
Forward facing car seats (five point harness) are good for toddlers from 20 to 40 pounds and up to 43″ in height. Once your child has outgrown this seat, then he has outgrown the five point harness car seat options and is ready to move into a booster seat.
Booster seats are important because they raise your child to a height that can be appropriately used with the car's own seat belt. There are two types of booster seats and they both accommodate the same weight and height of the child. The main difference is that the high back booster provides additional support for the correct seat belt height, which can be useful for the smaller child.
High back boosters are good for 30 to 100 pounds and 34″to 57″ in height.
Backless boosters are good for 30 to 100 pounds and 34″to 57″ in height.
Prices for child car seats in our limo service vary depending on the car seat:
Rear facing infant with base, $15
Rear facing convertible, $10
Forward facing toddler, $10
High back booster, $7
Backless booster, $5
When you make a reservation with us by phone or online, just let us know what type of car seat(s) you need and we will be happy to have them installed for you prior to your scheduled pick up. If you need help deciding which car seat, our reservationists will be able to assist you with general guidelines of height or weight or even age.
We look forward to providing you with peace of mind family car service with child seats, whether you are renting ours, bringing your own, or going without child restraint devices. Book your Chicago limo service today and enjoy your family travels.

07/02/16
If you are renting a Chicago limo to party or celebrate, then you should know the rules so you can determine what type of limo to reserve. Some limos allow alcohol and others don't. Some rules are created by the limo company and other rules are regulated by the city or the state. Keep the following in mind to have a good time:
Illinois law prohibits alcohol in non partitioned vehicles. This means the vehicle must have partition capability in order to allow passengers to drink alcohol while in the limo. Passengers must also be 21 or older by Illinois law. What does this mean for you? If you are of legal age and plan on drinking alcohol in the limo, be sure to reserve a limo with a partition. Stretch limos typically have a partition, while standard vehicles do not.
There are no Illinois laws regarding consumption of non alcoholic beverages or food in any vehicle. Every limo company will have different policies regarding this, so check with the limo service provider to find out what is and is not allowed. Typically, the limo company will provide bottled water. Other beverages and/or food may or may not be acceptable. There may also be a cleanup fee for spills.
Smoking is illegal in all Illinois public transportation vehicles. Smoking in any Illinois or Chicago limo, livery, or taxi, is against the law and passengers can be severely fined for breaking this law by both the police and the limo company. Vehicle detailing is required to rid the vehicle of smoke, and that cost may be passed on to the passenger(s).

Most limos no longer have sun or moon roofs, but if they do, you are not allowed to stand up through them. This is against the law as well as against most limo company policies for safety reasons.
Vehicles cannot be loaded beyond the passenger capacity. Passenger capacity can easily be determined by the number of seat belts installed in the vehicle. When ordering a limo, be sure the vehicle is truly capable of holding your party count. Some limo companies will sell a 10 passenger limo for a party of 10 (with the intention of squishing 10 people back there), but the limo may really only be seat belted for 10 passengers total. This means 8 passengers in back and 2 up front, 1 of which is for the driver. This means that only 8 people can legally be in back, 1 up front next to the driver (provided the seat has not been removed for cargo purposes), and 1 party member left standing on the curb. Ask questions, and if you don't get solid answers, call a different limo company.
Going Green Limousine will be happy to help you answer any questions regarding limo policies and limo laws. Just give us a call at 773 295 5959 and any of our reservationists will be able to direct you. As a Chicago limo service provider, it is our job to be sure you not only have the right limo, but you have a great time without stressing over breaking any policies or laws. That is why we offer Peace of Mind transportation. Every time.

06/25/16
Apparently there are a lot of unknown facts surrounding the whole TNC debate. Many people think that Chicago taxis and Chicago limo companies are against Uber and Lyft and other "ride sharing" companies because we fear the competition. That is a false theory. We are fine with the competition, as long as it is fair. There is a very uneven playing field between TNCs and traditional public transportation companies and that is what needs to change. This entire debate and legal battle can easily be resolved by just making everyone play by the same rules.
I will not speak for the taxi industry, since I am not knowledgeable in that area. I will, instead, speak for Chicago limo service companies. The following is what we are required to do in order to provide public transportation. Quick side note, "ride sharing" is not really ride sharing. Ride sharing is meant to be NOT for profit. Uber, Lyft, and others are charging for the rides, and therefore this is public transportation. So, all of the rules should apply equally.
The city of Chicago REQUIRES the following of Chicago limo service providers:
Limo companies must be located in the city of Chicago (proof of address is required)
Limo company owner/independent operators must be background checked and fingerprinted
Limo company owner/independent operators must pay off any and all city debt and not be past due on child support
All vehicles must be 5 years or newer (a 6th year MAY POSSIBLY be allowed after an expensive inspection)
All vehicles must have city livery plates ($500 per year per plate)
All vehicles must have city stickers (price varies by vehicle type)
All vehicles must pay $3.50 per day (per vehicle) for Ground Transportation Tax to the city. We are NOT allowed to pass this cost on to our client.
All chauffeurs must have a Chauffeur's Public License (hard card). This involves a 2 day course, followed by a difficult test, a drug test, physical exam, background check (which includes fingerprinting), all city debts paid, and past due child support brought current. This license renews annually, without the repeat of the course and written test.
Only city plated cars driven by licensed chauffeurs are allowed to pick up at the airport and drive into the city (and vice versa). This means if a Chicago limo company has state livery plates on a vehicle, that car is not allowed to go into the city, regardless if the chauffeur has a license or not.
Only city plated cars driven by licensed chauffeurs are allowed to go city to city (same rule as above).
All limo rides must be prearranged. It is against regulations for us to be summoned on the street.
All rates must be flat. We are not allowed to meter our rides (time and distance, etc).
All vehicles must have commercial auto insurance, for which a small business (such as 10 vehicles on the fleet), can expect to pay around $50,000 a year.
Here is why limo companies do not like the unfair playing field being allowed by TNCs:
They can live in the suburbs
They can drive any car
They can pick up and drop off between Chicago and the airports without a license
They can pick up and drop off from Chicago to Chicago without a license
They can have commuter plates
They do not need city stickers
They don't pay Ground Transportation Tax and they are allowed to pass any city fees on to the customer
They do not need a license (see details above for what is involved in this)
They do not need to be background checked or finger printed
They do not need to pay off their city debts or catch up their child support
They can be summoned without being prearranged
Their rates are metered (time and distance)
They don't need commercial insurance
Basically, they don't have any rules to follow. They can pick up and drop off whenever they want, charge whatever they want, drive whatever they want, live wherever they want, and all without any commercial insurance to boot. If we did that, we would get ticketed and towed, which would cost approximately $2,000 and a risk of losing the right to do business in the city again. It's very frustrating for those of us who pay all of the fees and play by all of the rules.
Now, if the rules are antiquated for TNCs, then they should be antiquated for Chicago limo companies and taxis. Some of these rules that we are forced to follow are just money makers for the city, but others are important for consumer safety. So, for Mayor Rahm Emmanuel and some of the aldermen fighting for the TNCs, to be so glib about antiquated safety measures, maybe they should take a step back and wonder WHY Uber is fighting so hard against fingerprinting. What exactly is it they are hiding? Of all the ordinances Alderman Beale tried to implement, fingerprinting became the showstopper. Doesn't that make you wonder who is driving for these TNCs that even the TNCs don't want it revealed?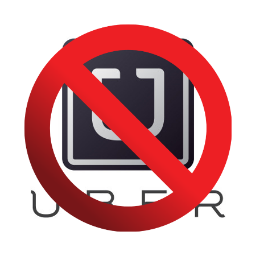 Stop illegal public transportation
Sorry, Rahm, I know Uber is your brother's investment, but the people of Chicago are supposed to be your investment. You should be concerned with safety of our citizens first and foremost, and the well being of small Chicago businesses also. And if you truly believe all of the regulations are nonsense, then I expect you to do away with all of them for all of us providing public transportation.
In the meantime, we are glad to continue to offer our clients legal and licensed Chicago limo service. Thank you for your continued loyalty Going Green.
05/26/16
The seating arrangements in a stretch limo can vary, and the configuration may make a difference in the type of stretch limo you are interested in reserving. Always ask your limo reservationist for assistance if you are uncertain of what would work best for your stretch limo event transportation.
Typical stretch limo arrangements can be found below for your reference.
A 4 to 6 passenger stretch limo sedan typically has two bench rows facing each other and offers ample leg room. Some versions of this limo, however, have a J configuration, with the back seat in its traditional position and a bench row along the length of the stretch limo for additional seating. (Check out the interior of this classic stretch limo!)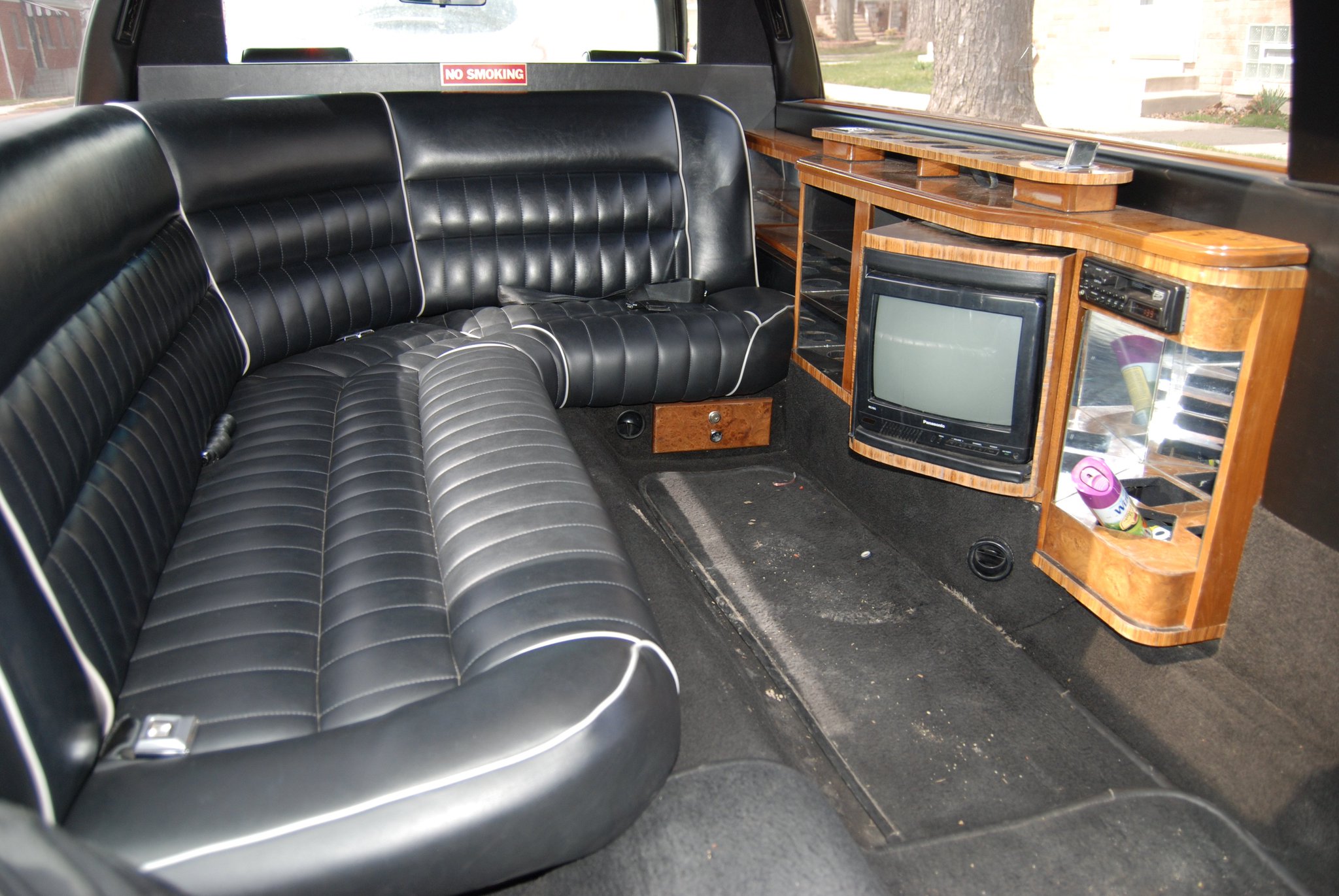 An 8 to 10 passenger stretch limo most often has a J configuration, with the traditional back seat in the back and a bench row along one side of the stretch limo with a bar along the other side of the stretch limo.
When stretch limos are longer, such as a 12 passenger stretch limo or an 18 passenger stretch limo, the seating arrangements tend to alternate so that some parts of bench seats face each other while other parts of the bench seats face a bar or two, depending upon the length of the stretch limo. The back seating area in these stretches can be traditional, but more often than not they are designed with classier seating and commonly referred to as the Bride and Groom seating area of the stretch limo.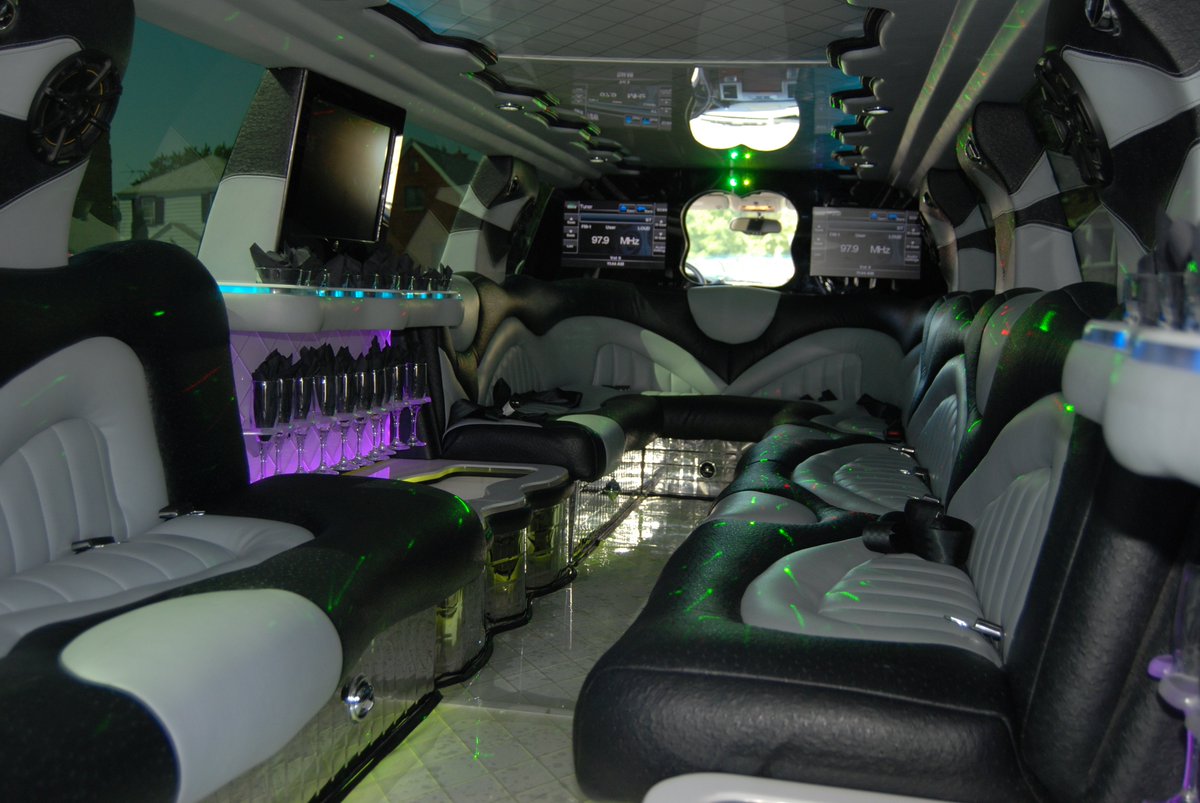 Buses do not get stretched, but they do have two different types of seating. Shuttle buses have row seating, where all of the passengers face forward. Party buses tend to have bench seating along one side or both sides of the bus, depending upon the placement of the limo bar(s).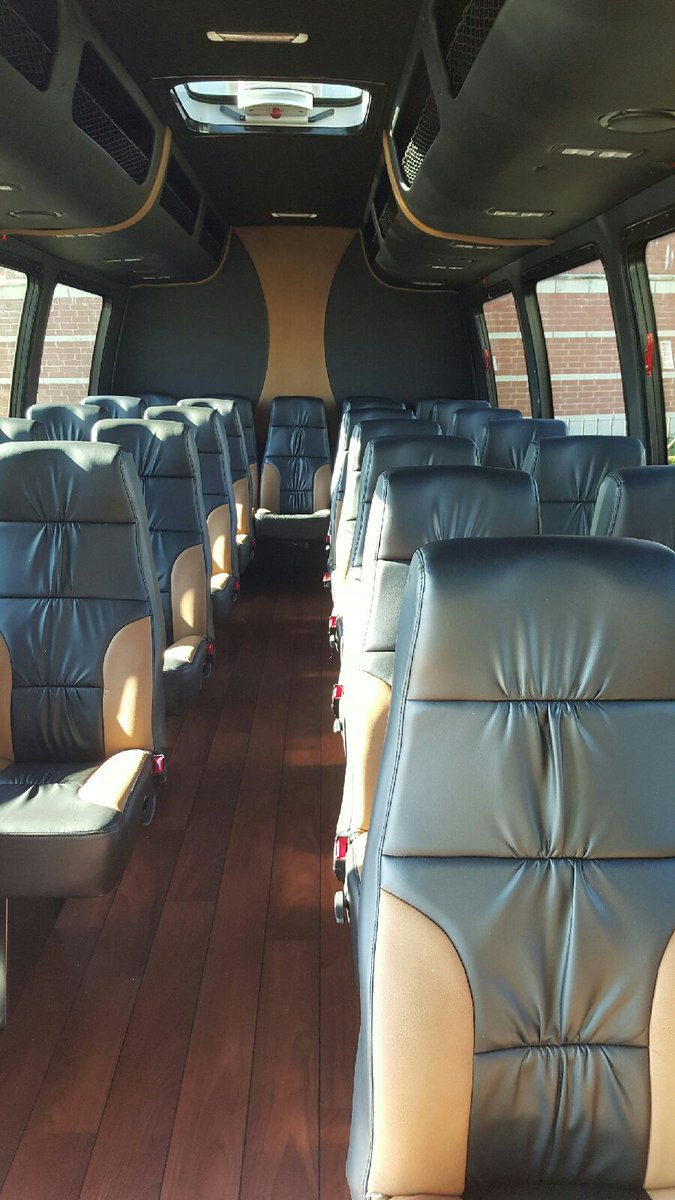 If you are uncertain of how the stretch limo interiors look, you should ask your limo reservationist to email you photos or direct you to their stretch limo photo gallery on their limo website. While most limo transportation companies will provide you with a nice stretch limo, if it isn't what you were expecting, then you will be disappointed. Better to have Peace of Mind and know exactly what your stretch limo will look like so that you can plan for your limo event. If you would like to see any of our stretch limos, you may request photos by email or visit our Going Green Limousine Chicago stretch limos at our Schiller Park location. Please call 773 295 5959 to schedule a stretch limo fleet viewing today.

05/23/16
There are many modes of transportation available to you as a consumer. You can catch a ride with family or a friend, hail a taxi, hop on a bus, take a train, or reserve a limo. Chicagoans and people worldwide make this choice every day. Some people understand the value of taking a limo service, while others don't really know what a limo service actually offers.
So, what does a limo service offer? Professionalism, for starters. Limo companies provide you with professional chauffeurs who are trained in this industry. They have safe driving records, know the areas they service, understand local traffic patterns, and can provide you with facts about the town and local eateries. They are good conversationalists who are skilled at knowing when a passenger wants to chat or when a passenger wants to nap. Small talk and silence, believe it or not, is a specialty trait. Professional chauffeurs assist with luggage, get doors, and provide you with refreshing bottled water. Additionally, Chicago limo chauffeurs are annually background checked, drug tested, and required to undergo a medical physical exam every year.
What about the limos themselves? They are newer, meticulously clean, and mechanically maintained to provide you with a safe and comfortable ride. Vehicles range from sedans to stretch limos, but you can rest assured that a limo service will be sure you get a car that you will enjoy riding in. And don't forget, that professional chauffeur will help you get even more comfortable by adjusting the temperature to meet your needs and setting the ambiance with music of your request.
Is insurance important? What about business licenses? Yes! Professional limousine services will always have the proper insurance and registration required to operate in the town in which it is licensed. Getting into a vehicle that is not commercially insured could be disastrous for all parties involved and is completely unacceptable in the limo industry. Furthermore, not being properly licensed and registered could mean leaving a passenger stranded by the side of the road, which would be intolerable and stressful. A good limo company knows the importance of following rules and regulations and providing peace of mind at all times.
The next time you need airport transportation, limo service, or have a wedding, birthday, or any other event, consider your ground transportation options and what type of service will best get you to your destinations safely and on time. Then choose a limo company that is highly rated and reputable so that you know you will be receiving the top notch service you deserve. You may always call Going Green Limousine, Chicago limo service for all of Illinois, Northwest Indiana, and Milwaukee Wisconsin areas. 773 295 5959

05/19/16
Size matters. And this is especially true when renting a black car service or stretch limo. Weddings, proms, airport transportation, or any other event that requires ground transportation must secure the right size vehicle. Unfortunately, consumers need to be aware of this when they are calling around limo price shopping, because many limo companies will misstate the vehicle capacity in order to get the limo booking.
Airport transportation consumers are not at risk of getting cheated as much as people with stretch limo needs. However, there are some things for which people needing airport transportation should consider, namely their cargo and the number of passengers. If you only have two passengers but six large suitcases, you will not fit in a standard sedan and you will need a large SUV. If the limo that comes to pick you up is not large enough for your luggage, then you will be forced to take a taxi with some of your bags. This is a bigger expense for you as well as a hassle. And if there is only one passenger, well . . . then you will have to separate from some of your luggage. Either way, it's not a good scenario. So, be sure to be accurate with your passenger and luggage count so that you reserve a vehicle large enough for your belongings as well as your personal comfort. (Quick note: stretch limos do not have more cargo space. The builders stretch the car, not the trunk, so there tends to be very limited cargo space in stretch limos, which is one of the reasons we do not use them for airport transportation.)
A major problem with vehicle capacity in the limo industry comes into play when a limo company tries to sell an undersized vehicle. This is typically done because that stretch limo is either the only one the limo company has, or it is the only one available for that day and time. Whatever the reason, it's bad news for you, the consumer, and for multiple reasons.
First, you are overpaying for a vehicle. If you order a 10 passenger stretch limo and the company sends you an 8 passenger stretch limo, you just received a smaller stretch for the bigger stretch limo price.
Second, the stretch limo is not insured for over capacity. If you load 10 passengers in an 8 passenger stretch limo, the insurance will be void, leaving everyone in a very precarious situation.
Third, you will be cramped beyond comfort. A limo capacity is typically obtained by the number of seat belts installed (or what should be installed if the limo is built to code). When you're limo pricing, a 12 passenger stretch limo should have 12 seat belts in the back. This means you will have 12 people sitting side by side uniformly. This may or may not be the most comfortable arrangement. Therefore, if you are going to have 12 people, you may want a slightly larger stretch limo, such as a 14 passenger stretch limo, so that you have some personal space and wiggle room. Certainly, if you have 12 large guys, a 12 passenger stretch is not the correct choice. Remember to also take your apparel into consideration. Bridal gowns and tuxedos should not risk getting crumpled in the wedding limo.
It is important to note that this counting of seat belts does not include the driver up front, and potentially the front passenger seat as well. Some limo companies will sell you a 12 passenger stretch limo, but it only has 10 seat belts in back and they are counting the 2 up front. Unfortunately, the driver's seat is already spoken for and the passenger seat, if there is one (sometimes they are removed for a cooler location or other supplies), means someone is sitting up front and missing the fun.
For the reasons just mentioned above, you will notice that we actually sell our stretch limos with a number range. Our 12 to 14 passenger Lincoln Navigator stretch limo SUV actually has 14 seat belts in back. (Notice, we don't count the 2 seats up front). However, the number of passengers who will fit comfortably in the back will depend largely upon the size of the people, therefore we prefer to sell it as a 12 passenger stretch limo that can legally hold 14 people. How many passengers you choose to put back there is your choice, as long as it does not exceed our maximum loading capacity. We do the same thing with our 18 to 20 passenger Cadillac Escalade stretch limo SUV. It's only fair, but we are a family owned limo company, so we do things a little differently.
So please be warned, if you are ordering a 10 passenger stretch limo, you may see an 8 passenger stretch limo pull up to your door instead. When you are price shopping, ask how many seat belts are in back, and when the limo arrives at your house for your special event, don't be afraid to check the loading capacity before entering. And of course, for your own personal comfort and enjoyment, consider ordering a stretch limo that is slightly larger than your party size. You are getting a limo because you want to have fun, and while we certainly hope all of the passengers like each other, sitting that close to each other is most certainly not the ambiance you want.
Have fun shopping for your airport car service and your event limo service. Just be sure to ask questions regarding cargo space and personal comfort. Your black car service and limo service should be giving you peace of mind, not sweaty armpits. And that is not stretching the truth.

05/12/16
Getting to the prom is part of the excitement of the night, so it's a choice you want to make wisely. There are many options, and this is a night where a taxi (yes, including a Mom-Taxi), may not be your ideal preference. You may even be considering driving yourself. However, the flair of stepping out of your house in your tuxedo with your elegantly dressed date and having a professionally dressed chauffeur open your car door for you can set the mood for the night. You went to the trouble of picking out the perfect corsage or boutonniere, now pick out the perfect prom car.
If it's just you and another person, a sedan or small SUV may be all you want for your private car service. You and your date can sit comfortably in the back seat while your chauffeur takes you to the prom. If you have up to six or seven people going together, a large SUV will give you a presidential sensation for your prom arrival. If photo stops are on your agenda, charter the vehicle or inquire about prom packages.
Looking for a stretch limo for an elegant entrance or Hollywood approach? Stretch limos can hold a variety of different passenger counts, whether you have eight people or twenty. Typically, these vehicles are equipped with televisions, DVD players, music hookups, and a bar with glassware that will be stocked with soda and bottled water.
Whichever vehicle you decide, remember to choose a reputable limo company so that you are not surprised without a ride on the night of your prom. Safety is of the utmost importance, so you want a limo company that is properly licensed and insured and employs reputable chauffeurs who are also personal. Prom is a once in your lifetime event, so take no chances. Chicago limo companies are plentiful, but many may not be a good fit for your prom.
We will be happy to provide you with the best ground transportation service you can get for your prom night. Call Going Green Limousine at 773-295-5959 and ask about our prom limo packages today. We hope you have a wonderful and memorable event.

03/05/11
Green Washing at the Chicago Auto Show (Part 2 in a series)
When we did some research on the Lincoln EcoBoost we determined that the eco in EcoBoost needed a boost of its own in order to be truly environmental. Our last blog referred to how we thought the Lincoln EcoBoost was a form of green washing that was introduced at the 2010 Auto Show. It is possible that Lincoln itself agrees since the EcoBoost was much toned down at the 2011 Auto Show, with more fanfare being given to the Lincoln MKZ Hybrid, a truly greener car.
If you drive a high performance car and want to make a smaller impact on your fuel economy, then EcoBoost can give you a slightly better chance at this than the same car that does not have EcoBoost. Note, the key word here is slightly, as demonstrated below.
Lincoln MKS without Ford EcoBoost: 16/23mpg
Lincoln MKS with Ford EcoBoost: 17/25mpg
Yes, these numbers are directly from Ford Lincoln and are therefore the actual miles per gallon that Lincoln estimates you will get. With the EcoBoost you can expect to gain 1mpg in the city and 2mpg on the highway. And the cost difference for this "eco" car is only $6,890 more than it's "non-eco" counterpart.
So, it's not really an eco car. Although, to be fair to Lincoln, they never did say it was eco. They just said it was an eco boost.
That being said, if you want a high performance car that can be slightly more efficient when you are racing it on a track and get V8 power with a V6, then you may want to buy an EcoBoost car. If you are conscientious of the environment then the EcoBoost may just be a little too much like green washing for your needs.
Our eco car service uses hybrids to reduce emissions by up to 80% in our industry. This is a point we stress repeatedly but it is so important because limo service cars idle the majority of the time they are working. They idle in the limo lot waiting for planes, they idle at curbsides waiting for passengers, and they idle in city traffic.
Limos do not require V8 high performance; most clients do not want to be driven around like they are in a high speed chase. Limos need to be comfortable, clean, and reliable. They need to be driven by chauffeurs who know how to drive smoothly and safely. If you are an eco car service, limos also need to be truly eco friendly; otherwise all of the idling limo cars do will not make a difference on the environment.
Limo companies need to start being responsible for their contribution to greenhouse gases. It's not enough that people are starting to think green. Limousine companies need to actually start going green. When it comes to the limo industry, cars with EcoBoost aren't going to reduce emissions enough to make an impact.
There are many sedans that can get up to 40mpg without an EcoBoost option and some hybrids are able to get up to 50 and 60mpg. Other options such as hydrogen powered vehicles are already becoming more feasible. Realistically, electric vehicles will be on the market soon enough with unlimited mpg and they will have zero tailpipe emissions.
So, whether you are an eco car service or a consumer interested in reducing your carbon footprint, going green can go beyond green washing. Hybrids are one of the greenest choices we currently have available and EVs will most likely be next.
If you're interested in learning more about EVs, stay tuned for our upcoming blogs, where we not only discuss EVs, but also the greenest hybrid we found at the 2011 Chicago Auto Show.
02/24/11
I was very excited to go to the Chicago auto show this year. The Chicago Auto Show web site boasted 27 hybrids and 11 electric vehicles. I mean, as the owner of a green car service, even 2 hybrids and 1 EV would have me curious; but 27 and 11 had me salivating. I couldn't wait to go and see what was in store for me and the future of my eco limo company.
So, let's start with the 27 hybrids. Or should I say two hybrids? Granted, I did not find all 27 listed, but after seeing at least half of them and discovering the green washing that was occurring, I had seen enough to have my head shaking and my eyes rolling.
Are auto manufacturers so determined to be part of the green scene that they are willing to green wash to get there? Wouldn't it be just as simple to create a full hybrid and really be more environmentally friendly then to, well, stretch the green certainty?
To be fair, there are different kinds of hybrids that car manufacturers have released in the past. However, now that full hybrid technology has been available for a number of years and proven to be effective, there really is no reason to continue to manufacture partial hybrids. So, why all the partial hybrids?
And I use the term partial hybrid relatively loosely. The majority of the MPGs on these partial hybrids can make your eyebrows raise and then furrow. I exchanged that look with several participants at the auto show on numerous occasions.
Let's face it, when you look at a hybrid SUV like theFord Escape and see 35/31mpg and then look at a hybrid sedan like the Mercedes Benz 5400 and see 19/25mpg, something does not compute. Especially if you understand the different types of hybrid technologies, or even know that it exists. The Ford Escape Hybrid is a full hybrid and the Mercedes Benz Hybrid is only a partial hybrid.
Just because a car says HYBRID on the side of it does not necessarily make it a full hybrid. It may simply be a partial hybrid, or an electric assist, which is really all it is. Cheers to Buick for at least being honest enough to name their "hybrid" cars E-assist; and no, they did not slap the HYBRID logo on their E-assist cars.
None of this is to say anything negative about partial hybrids or electrically assisted cars. As a matter of fact, I have a partial hybrid on my limo fleet. The point is that in 2011 when full hybrid technology is readily available and EV technology is closely following, why are we now manufacturing so many partial hybrids?
And why are we touting them as hybrids instead of what they really are? Partial hybrids, or electric assisted vehicles, are unable to actually drive without the motor. However, the battery does help power the motor to conserve fuel. Also, when you don't need the motor, such as when you come to a complete stop, then the motor shuts off and the battery is used solely to supply power to your car.
Partial hybrids are better than gas guzzlers, but it is so disappointing to run up to a car that says HYBRID and then see a MGP that is lower than what my 8 passenger stretch limo gets. It does not make sense, especially not in 2011.
The disappointment I had at this year's auto show was almost as great as the bubble burst from Ford's EcoBoost last year, which, in my opinion, was the green washing attempt of the 2010 Chicago auto show. To Ford's credit, however, I noticed the EcoBoost did not have a strong presence this year at the auto show; so perhaps they decided to tone down the green washing in favor of promoting truer environmentally friendly cars like their full hybrids, the Ford Escape and the Lincoln MKZ.
Interested in learning more about the EcoBoost and why I call it green washing? Or how about the full hybrid at the auto show that truly deserves the green award? Those blogs are coming soon, along with the blog about the 11 EVs at the auto show. Subscribe to our RSS Feed now so you don't miss the next article in this series.
02/13/11
Every major metropolitan city offers limousine service, Chicago included. There are also suburbs, towns, and small cities with limo service. There are over 9,000 limo service cars in Chicago alone, and that does not include taxis or suburban limo companies. The number of limos that are not yet going green is toxic.
To quote directly from Jason Rothstein's book, Carless in Chicago,
"According to the Environmental Protection Agency, the average car burns 581 gallons of gasoline per year, and in doing so, emits nearly 600 pounds of carbon monoxide, nearly 40 pounds of nitrous oxides, nearly 80 pounds of volatile organic compounds (VOCs), and a whopping 11,000 pounds of carbon dioxide, a contributing greenhouse gas. The average Chicagoan burns through about 880 gallons of gas per year, making his or her contribution about 65 percent higher." (Rothstein, 2010)
Now, what makes these numbers even more significant is in the consideration of limo companies. The statistics above relate to the average resident, not limousine services that spend the majority of the day idling. Limousines, both sedans and stretch limos, idle while they are waiting at the airport, which can be for hours at a time. They also idle during traffic as well as when they are in front of their pick up location waiting for passengers.
This means that the statistics for poisonous emissions listed above are much higher for limos, especially in Chicago and other major metropolitan cities where limos are used regularly. This is why it's not enough to think green. Limousine service needs to be going green with truly reduced emissions.
Hybrids can reduce emissions in our industry by up to 80%, which means you are making a significant impact by using an eco car service that uses hybrids instead of traditional sedans or other vehicles. With all of the technology that is available today, only hybrids and electric vehicles can really help to reduce your carbon footprint when you are taking a limo service.
There are some cars now that are being touted as more energy efficient, such as cars using the Ford EcoBoost. However, those cars are designed to deliver high performance, such as getting V8 power in a V6 engine. They only range from 16mpg to 22mpg on the highway and even Ford admits the Eco Boost is not really advantageous for the environment.1 In comparison, the Ford Escape Hybrid SUV gets up to 36mpg on the highway, and Going Green Limousine has seen their Ford Escape Hybrid Signature vehicle get up to 60mgp in the city.
That being said, the eco part of EcoBoost cars does not really come into play in the limo service industry. When you hire a limo you are not hiring a race car driver. You are hiring a professional chauffeur who will take you to your destination safely and on time.
Our next blog will follow up on different types of cars that can help reduce your impact on the environment. But in the meantime, regardless of the car you own, next time you need to hire a private car service, think Going Green Limousine or choose another eco limo service that uses hybrids.
1 Driving Smart, by Sheryll Alexander, Why Smaller Engines Save you Money. Posted on Autotropolis.com
Section entitled Ford EcoBoost:
http://www.autotropolis.com/wiki/index.php?title=Why_Smaller_Engines_Save_You_Money
02/09/11
Chicago just had its first real blizzard since 1979 and the one we had prior to that was in 1967. Normally we would only have a 20" snowfall every fifty years1, so having three in that time frame may be yet another sign of global warming.
The term global warming may be misleading to some people, since they may think a blizzard is a sign that global warming is not taking place. However, understanding how global warming works means that these extreme changes in our weather are an indication that global warming is indeed occurring.
To explain global warming very basically, as the snow on the polar caps melt due to warmer climate changes, it puts more moisture into the air. More moisture and warmer atmosphere mean more precipitation. The increased precipitation will bring more snow in the winter and more rain in the summer.
Therefore, all of the extreme weather changes we have been seeing, the blizzards as well as the hurricanes and typhoons, all seem to back up the evident threat of global warming. Therefore, global warming does not just refer to warmer temperature.
Instead of global warming you can think of the term climate change. Both terms refer to the same environmental situation that is currently at hand. Our climate is changing and even a one degree difference can have an adverse impact on our planet.
If you don't believe in climate change, just consider this: What if the climate change advocates are right? Just what if? If they're wrong, then there is no harm done. People will have taken extra steps in conserving resources and will have an increased awareness of the environment. However, if the climate change advocates are right and people are not proactive, then our planet is in serious jeopardy.
So, it may be in everyone's best interest to take steps toward environmental solutions. Making even small daily eco conscious decisions can make a big difference. Conserve resources, reduce unnecessary consumerism, reuse, and recycle.
Going green does not have to involve drastic measures. The majority of the problem causing climate change is our emission of greenhouse gases. Simply making environmentally friendly decisions like using an eco car service or placing a recycling container next to your garbage can help reduce greenhouse gases without taking much time, effort, or money.
To learn more about climate change, check out these resources:
Yes Magazine http://www.yesmagazine.org/planet
Carbon Nation http://www.carbonnationmovie.com/
If you have additional resources to add regarding climate change, please post them here. We would love to hear from you!
1 Chicago Blizzard: City Digs Out After Third Biggest Snow Storm EVER
The Huffington Post, February 1, 2011
http://www.huffingtonpost.com/2011/02/02/chicago-blizzard-flights-canceled_n_817187.html#s233897&title=Winter_Weather
09/10/10
As a Chicago limo company, we are often confronted with the question of what the difference is between a limousine and a stretch limo. Sometimes clients call us and are not sure of what type of limo service they need to order. The only difference between a limousine and a stretch limousine is the size of the car. If a chauffeur is driving a luxury car, then the car is considered a limousine, whether it is a sedan or a stretch limo.
In basic terms, a limousine is a luxury car that is chauffeured. Unlike a taxi, which also comes with a driver, a limousine is a nice car that often has extra amenities, such as leather seating and bottled water. The limousine can be a sedan, a town car, a hybrid, a mini SUV, an SUV, a flex fuel, or a stretch limousine. Even party buses and vans can count as limousines if they are provided by a limo company and come equipped with a professional chauffeur.
The difference between a limousine and a stretch limo, then, is merely the length of the car. A stretch limo is simply a sedan, town car, or other vehicle that is cut in half, extended, and welded back together. (There is a lot more body wise and mechanically that goes into making a stretch limo, but we can cover that in another Going Green Limousine blog!) So, a sedan is a limousine that, if it gets stretched, becomes a stretch limousine. Both a regular limousine and a stretch limousine can be called a limo.
To make ordering a limo service easy, when you call your limo service provider, you can ask for a sedan, SUV, stretch limo, or party bus. You can also tell them how many passengers you need and they can help you determine the type of limo you need.
If you only have two people then you will probably want a sedan, although you may want a stretch limo for just the two of you. If that is the case, be sure to specify you want a stretch limo and not just a limo otherwise you may get a sedan. Obviously, if you have eight people, you will want an eight passenger stretch or a ten passenger stretch. (The number of people that actually fit in a stretch limo is also conversation for a different Going Green Limousine blog.)
This is really all the information you need to know in order to decide what type of limo you want and how to make your reservation. Whether you are booking online or ordering your limo by phone, simply choose a sedan limo, a stretch limo or any other type of limo you need. As long as you get a luxury ride with a professional chauffeur you are in a limo.