05/26/16
The seating arrangements in a stretch limo can vary, and the configuration may make a difference in the type of stretch limo you are interested in reserving. Always ask your limo reservationist for assistance if you are uncertain of what would work best for your stretch limo event transportation.
Typical stretch limo arrangements can be found below for your reference.
A 4 to 6 passenger stretch limo sedan typically has two bench rows facing each other and offers ample leg room. Some versions of this limo, however, have a J configuration, with the back seat in its traditional position and a bench row along the length of the stretch limo for additional seating. (Check out the interior of this classic stretch limo!)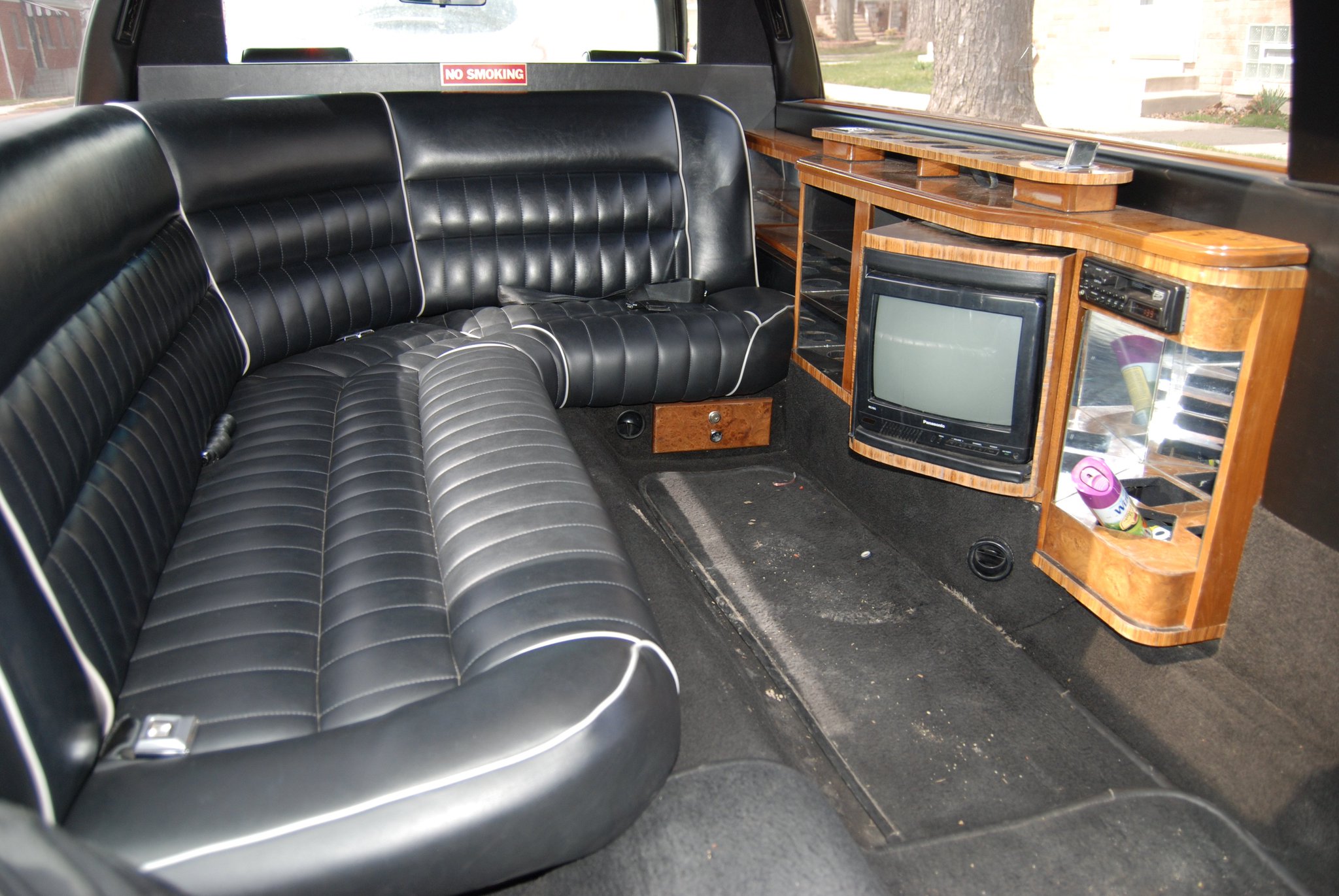 An 8 to 10 passenger stretch limo most often has a J configuration, with the traditional back seat in the back and a bench row along one side of the stretch limo with a bar along the other side of the stretch limo.
When stretch limos are longer, such as a 12 passenger stretch limo or an 18 passenger stretch limo, the seating arrangements tend to alternate so that some parts of bench seats face each other while other parts of the bench seats face a bar or two, depending upon the length of the stretch limo. The back seating area in these stretches can be traditional, but more often than not they are designed with classier seating and commonly referred to as the Bride and Groom seating area of the stretch limo.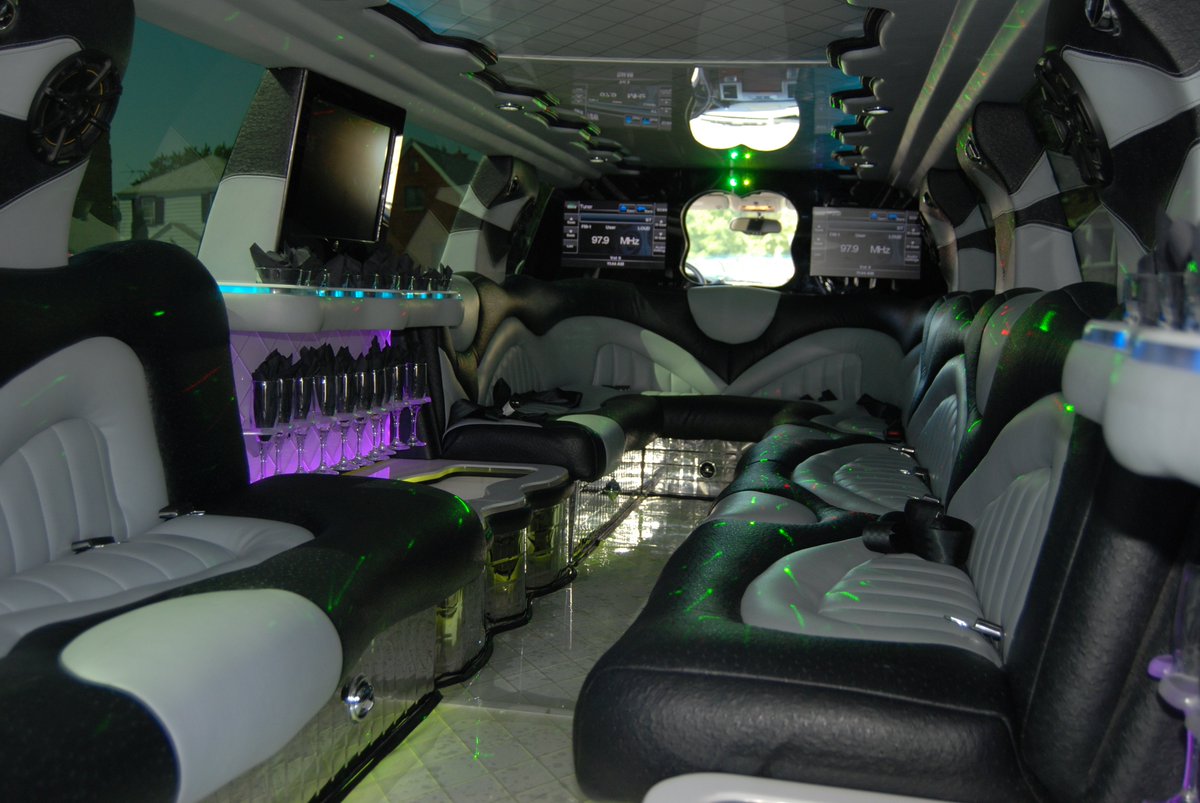 Buses do not get stretched, but they do have two different types of seating. Shuttle buses have row seating, where all of the passengers face forward. Party buses tend to have bench seating along one side or both sides of the bus, depending upon the placement of the limo bar(s).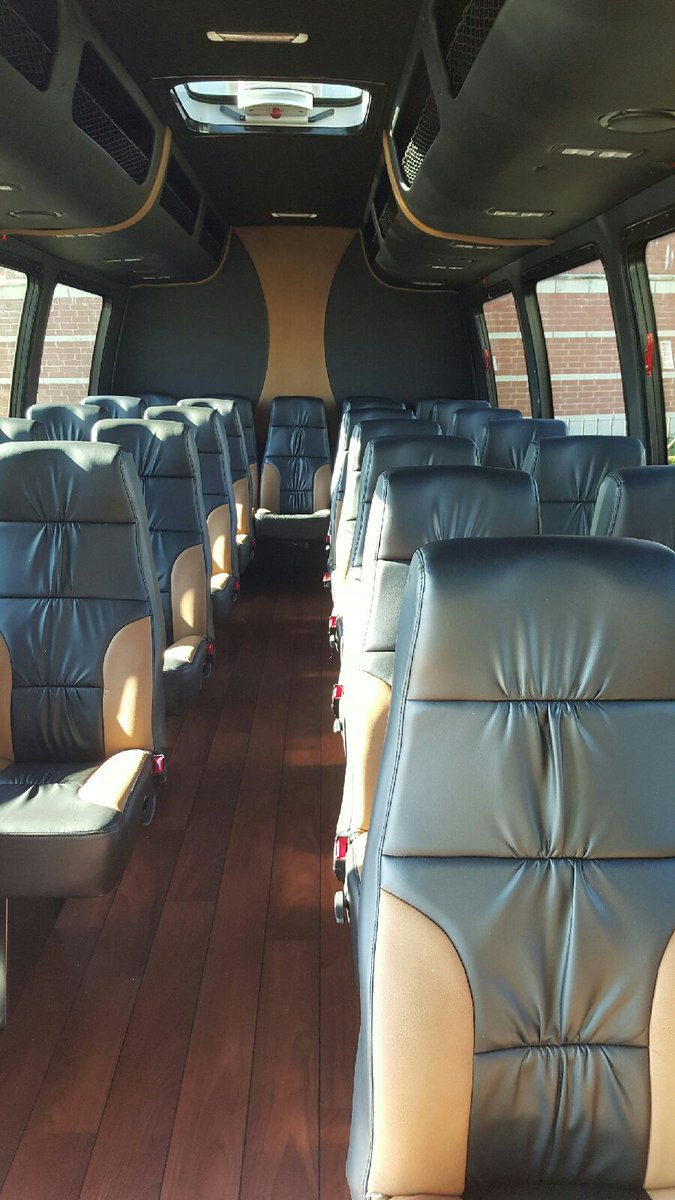 If you are uncertain of how the stretch limo interiors look, you should ask your limo reservationist to email you photos or direct you to their stretch limo photo gallery on their limo website. While most limo transportation companies will provide you with a nice stretch limo, if it isn't what you were expecting, then you will be disappointed. Better to have Peace of Mind and know exactly what your stretch limo will look like so that you can plan for your limo event. If you would like to see any of our stretch limos, you may request photos by email or visit our Going Green Limousine Chicago stretch limos at our Schiller Park location. Please call 773 295 5959 to schedule a stretch limo fleet viewing today.

05/23/16
There are many modes of transportation available to you as a consumer. You can catch a ride with family or a friend, hail a taxi, hop on a bus, take a train, or reserve a limo. Chicagoans and people worldwide make this choice every day. Some people understand the value of taking a limo service, while others don't really know what a limo service actually offers.
So, what does a limo service offer? Professionalism, for starters. Limo companies provide you with professional chauffeurs who are trained in this industry. They have safe driving records, know the areas they service, understand local traffic patterns, and can provide you with facts about the town and local eateries. They are good conversationalists who are skilled at knowing when a passenger wants to chat or when a passenger wants to nap. Small talk and silence, believe it or not, is a specialty trait. Professional chauffeurs assist with luggage, get doors, and provide you with refreshing bottled water. Additionally, Chicago limo chauffeurs are annually background checked, drug tested, and required to undergo a medical physical exam every year.
What about the limos themselves? They are newer, meticulously clean, and mechanically maintained to provide you with a safe and comfortable ride. Vehicles range from sedans to stretch limos, but you can rest assured that a limo service will be sure you get a car that you will enjoy riding in. And don't forget, that professional chauffeur will help you get even more comfortable by adjusting the temperature to meet your needs and setting the ambiance with music of your request.
Is insurance important? What about business licenses? Yes! Professional limousine services will always have the proper insurance and registration required to operate in the town in which it is licensed. Getting into a vehicle that is not commercially insured could be disastrous for all parties involved and is completely unacceptable in the limo industry. Furthermore, not being properly licensed and registered could mean leaving a passenger stranded by the side of the road, which would be intolerable and stressful. A good limo company knows the importance of following rules and regulations and providing peace of mind at all times.
The next time you need airport transportation, limo service, or have a wedding, birthday, or any other event, consider your ground transportation options and what type of service will best get you to your destinations safely and on time. Then choose a limo company that is highly rated and reputable so that you know you will be receiving the top notch service you deserve. You may always call Going Green Limousine, Chicago limo service for all of Illinois, Northwest Indiana, and Milwaukee Wisconsin areas. 773 295 5959

05/19/16
Size matters. And this is especially true when renting a black car service or stretch limo. Weddings, proms, airport transportation, or any other event that requires ground transportation must secure the right size vehicle. Unfortunately, consumers need to be aware of this when they are calling around limo price shopping, because many limo companies will misstate the vehicle capacity in order to get the limo booking.
Airport transportation consumers are not at risk of getting cheated as much as people with stretch limo needs. However, there are some things for which people needing airport transportation should consider, namely their cargo and the number of passengers. If you only have two passengers but six large suitcases, you will not fit in a standard sedan and you will need a large SUV. If the limo that comes to pick you up is not large enough for your luggage, then you will be forced to take a taxi with some of your bags. This is a bigger expense for you as well as a hassle. And if there is only one passenger, well . . . then you will have to separate from some of your luggage. Either way, it's not a good scenario. So, be sure to be accurate with your passenger and luggage count so that you reserve a vehicle large enough for your belongings as well as your personal comfort. (Quick note: stretch limos do not have more cargo space. The builders stretch the car, not the trunk, so there tends to be very limited cargo space in stretch limos, which is one of the reasons we do not use them for airport transportation.)
A major problem with vehicle capacity in the limo industry comes into play when a limo company tries to sell an undersized vehicle. This is typically done because that stretch limo is either the only one the limo company has, or it is the only one available for that day and time. Whatever the reason, it's bad news for you, the consumer, and for multiple reasons.
First, you are overpaying for a vehicle. If you order a 10 passenger stretch limo and the company sends you an 8 passenger stretch limo, you just received a smaller stretch for the bigger stretch limo price.
Second, the stretch limo is not insured for over capacity. If you load 10 passengers in an 8 passenger stretch limo, the insurance will be void, leaving everyone in a very precarious situation.
Third, you will be cramped beyond comfort. A limo capacity is typically obtained by the number of seat belts installed (or what should be installed if the limo is built to code). When you're limo pricing, a 12 passenger stretch limo should have 12 seat belts in the back. This means you will have 12 people sitting side by side uniformly. This may or may not be the most comfortable arrangement. Therefore, if you are going to have 12 people, you may want a slightly larger stretch limo, such as a 14 passenger stretch limo, so that you have some personal space and wiggle room. Certainly, if you have 12 large guys, a 12 passenger stretch is not the correct choice. Remember to also take your apparel into consideration. Bridal gowns and tuxedos should not risk getting crumpled in the wedding limo.
It is important to note that this counting of seat belts does not include the driver up front, and potentially the front passenger seat as well. Some limo companies will sell you a 12 passenger stretch limo, but it only has 10 seat belts in back and they are counting the 2 up front. Unfortunately, the driver's seat is already spoken for and the passenger seat, if there is one (sometimes they are removed for a cooler location or other supplies), means someone is sitting up front and missing the fun.
For the reasons just mentioned above, you will notice that we actually sell our stretch limos with a number range. Our 12 to 14 passenger Lincoln Navigator stretch limo SUV actually has 14 seat belts in back. (Notice, we don't count the 2 seats up front). However, the number of passengers who will fit comfortably in the back will depend largely upon the size of the people, therefore we prefer to sell it as a 12 passenger stretch limo that can legally hold 14 people. How many passengers you choose to put back there is your choice, as long as it does not exceed our maximum loading capacity. We do the same thing with our 18 to 20 passenger Cadillac Escalade stretch limo SUV. It's only fair, but we are a family owned limo company, so we do things a little differently.
So please be warned, if you are ordering a 10 passenger stretch limo, you may see an 8 passenger stretch limo pull up to your door instead. When you are price shopping, ask how many seat belts are in back, and when the limo arrives at your house for your special event, don't be afraid to check the loading capacity before entering. And of course, for your own personal comfort and enjoyment, consider ordering a stretch limo that is slightly larger than your party size. You are getting a limo because you want to have fun, and while we certainly hope all of the passengers like each other, sitting that close to each other is most certainly not the ambiance you want.
Have fun shopping for your airport car service and your event limo service. Just be sure to ask questions regarding cargo space and personal comfort. Your black car service and limo service should be giving you peace of mind, not sweaty armpits. And that is not stretching the truth.

05/12/16
Getting to the prom is part of the excitement of the night, so it's a choice you want to make wisely. There are many options, and this is a night where a taxi (yes, including a Mom-Taxi), may not be your ideal preference. You may even be considering driving yourself. However, the flair of stepping out of your house in your tuxedo with your elegantly dressed date and having a professionally dressed chauffeur open your car door for you can set the mood for the night. You went to the trouble of picking out the perfect corsage or boutonniere, now pick out the perfect prom car.
If it's just you and another person, a sedan or small SUV may be all you want for your private car service. You and your date can sit comfortably in the back seat while your chauffeur takes you to the prom. If you have up to six or seven people going together, a large SUV will give you a presidential sensation for your prom arrival. If photo stops are on your agenda, charter the vehicle or inquire about prom packages.
Looking for a stretch limo for an elegant entrance or Hollywood approach? Stretch limos can hold a variety of different passenger counts, whether you have eight people or twenty. Typically, these vehicles are equipped with televisions, DVD players, music hookups, and a bar with glassware that will be stocked with soda and bottled water.
Whichever vehicle you decide, remember to choose a reputable limo company so that you are not surprised without a ride on the night of your prom. Safety is of the utmost importance, so you want a limo company that is properly licensed and insured and employs reputable chauffeurs who are also personal. Prom is a once in your lifetime event, so take no chances. Chicago limo companies are plentiful, but many may not be a good fit for your prom.
We will be happy to provide you with the best ground transportation service you can get for your prom night. Call Going Green Limousine at 773-295-5959 and ask about our prom limo packages today. We hope you have a wonderful and memorable event.

05/04/16
Proms, or promenades as they are formally know, originated in the universities back in the 19th century as a celebration for their graduates. Over the years, proms have transformed and now take place as early as high school, including junior high. Formal attire is still customary, but fashion trends continuously change through the decades. Another alteration to the proms of yesteryear is that while proms of the past tended to be mainly enjoyed by couples, now it is socially acceptable to go solo or join a group of friends. Some prom concepts remain constant, such as ball rooms and limo transportation. However, one of the newer changes on the prom scene is the movement toward the environmentally conscious prom, also known as the eco prom.
Fortunately, more and more teenagers are becoming aware of the dangers of climate change and are willing to tackle the problem through lifestyle changes. Prom is a great chance to showcase how easy it is to have a formal and traditional event while still being green. Follow the tips below to have an Eco prom, whether you choose to go simple or all out elegant.

Fashion:
Sustainable clothing is becoming easier and easier to obtain, and with the different fabric choices now available, you don't have to wear a hemp T-shirt to the prom (although the men are welcome to wear them underneath their tuxedos). Organic cotton, organic silk, bamboo, hemp, and soy are just some of the fashion options being used to create ecofriendly garments. Shop for locally sourced materials or search for fair trade fashion suppliers. Of course, you can also shop for a used gown as recycling is an even greener way to go. Most prom gowns are only worn once, so even a used dress is going to be like new. Which brings us to the next idea: buy a gown you can wear more than once. Some dresses can be dressed up or dressed down, so you can maximize its potential. Another option to also to rent a dress. It is more cost effective to rent than own, and then you can choose any gown you want without worrying about its prospective to be worn for another occasion.
This is a 100% hemp knit gown handcrafted by a famed Danish knitter in sweatshop-free Europe. Priced at $299 at the time of this posting. Visit Rawganique for details on this dress and others.
Makeup and Nails: Skip the fakes. Mock nails and false eyelashes are unsafe for the environment and the toxins are very unhealthy for you. Go natural and let your own beauty shine, or use all natural products. Mineral makeup, natural eyeliner, natural mascara, natural lipstick, and natural nail polish can all enhance your appearance without hurting you or the Earth. Abe's Market is a great online marketplace for natural products from different vendors who list all of their ingredients so you can make an informed choice.

Shoes:
Shoes have long been touted as the main accessory to your fashion statement. However, if you think about it, you really don't wear them, especially at the prom. Unless you're wearing sneakers, there's a good chance that your shoes will be under the table from dinner until dawn, or at least until midnight when you head back to your carriage, or our limo as the case may be. So, consider being shoe smart when shopping for your prom. You can choose comfortable flats or even heels that you can wear with future outfits; but avoid the specific shoe that will only be worn this one time. There are several options for shoes now that help with eco choices, too. From fake leather and recycled vinyl to hemp and cork, you can find some simple buy stylish shoes that will be comfortable for you and help the Earth breath a little easier, too. And of course, fair trade or locally sourced and made is always the best option with any purchase.
Purses: You most likely want your purse to match your shoes or your outfit, or maybe you distinctly don't want to match at all and go with sharp contrast. Either way, the purse is another one of those items that you will most likely leave at the table and forget about until the dancing is done. If you are planning on leaving your purse unattended, please be sure not to keep any identification, keys, cash, credit cards, or jewelry inside it. Keep a small personal bag that you can wear on your body with these essential items. A clutch is usually the most chosen bag for prom due to its size, but it also is one of the most inconvenient since you need to hold it (clutch it) in your hand at all times (hence the name, clutch). A purse with small handles that can hang on your shoulder right under your arm may be better for dancing. A cross body purse is also relatively comfortable and depending upon the style, can accessorize your gown. However, for the most part, your purse is not going to be comfy on the dance floor, so strap your important things to your thigh with a thigh purse or garter purse and if you have more items, keep those in a bigger bag at the table or coat check. Rather than spend money on a one time use purse, choose a sustainable option that can be used long term, and look for items made from organic cotton, hemp, and even recycled yoga mats (see below). And, obviously, locally made, locally sourced, and fair trade are a given when purchasing purses.

This lined purse is handmade in Colorado of jute yoga mat mixed with a black yoga mat and can be worn as a cross body purse. Priced at only $28 at the time of this posting. Visit

OlovesM

for details and additional products.
Jewelry: Jewelry is tricky, especially once you learn about blood diamonds or conflict diamonds. There are ethical jewelers out there, though, so you can find the perfect sparkle for your dress. Most jewelry can be worn again with other outfits, so pick something you like and just make sure it comes from a pure source. You can also get necklaces, bracelets, and earrings made from lab created (synthetic) gemstones, recycled glass, recycled vinyl, and hemp.

Transportation:
You may be wondering how transportation can be green unless you're taking the train to the prom. Believe it of not, you can green your ride with an eco car service. While there are not many limo companies yet offering the green option, there are a few like Going Green Limousine out there. Our Chicago limo company offers hybrid sedans and Flex-Fuel SUVs, which are perfect for prom parties from one to seven passengers. More than seven passengers can also get a green ride, even though it will be in a stretch limo. Our limo company has a carbon offsetting program in place for stretch SUV limo rentals, so you can feel confident about your ride resulting in trees being planted in the Atlantic Rain Forest. There's also the added benefit of using a stretch limo by reducing the number of vehicles on the road. For example, if you put eighteen passengers in our stretch Cadillac Escalade SUV, there will be only one vehicle on the road instead of nine sedans for nine couples, or eighteen cars for eighteen people, or . . . you get the idea. It's definitely a way to green your prom limo service. Another advantage of having a limo is being able to enjoy the entire prom without worrying about driving and parking. And it is a time honored tradition to have that extra indulgence on your prom night. If a limo is not on your radar for prom, then consider carpooling to reduce your carbon footprint on prom night. And if you happen to take the train or bus, enjoy the ride knowing you are attending prom night without adding injury to our planet.
Going Green Limousine, Chicago Prom Limo for up to 20 passengers in our Cadillac Escalade stretch SUV (pictured above). Four hour split charter prom packages available. Charters include complimentary soda and bottled water. Stemware is provided. Make your reservations by phone at 773-295-5959 or online at Going Green Limousine.

There are many ways to have a green prom. We would love to hear some other ideas you have to help make proms more environmental without reducing the emotional impact of this very special evening. I look forward to hearing from you.